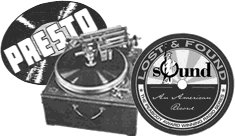 78s, Acetates, and Weird Records
This interesting page features a history of 78 'acetate' records, as well as an intriguing collection of home recordings available in RealAudio, .mp3, and .wav audio formats. More rare archive recordings can be found at NPR's Lost And Found Sound site, the companion to the National Public Radio series.
The recordable 78's used by these home hobbyists were sold by several different manufacturers, including Tru-Kut and Presto, inarguably the leader in the industry and a pioneer in the production of the lacquer-coated instantaneous recording disc. The Acetate Record Labels page offers several pictures of labels from the recording blanks issued by these competing manufacturers. The Presto History Page is another excellent resource for those interested in learning more about this pre-audiocassette technology.