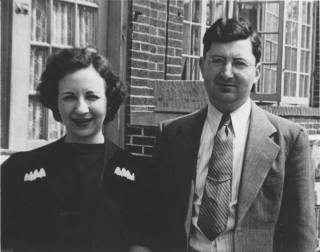 My cousin Ruth with her husband, Sam Klatsky.
My grandfather, Irving Gushin, was her first cousin. Ruth was like an older sister to him, and she cared for him a lot. When he passed away in December 1980, my grandmother did not have the decency to inform her or his other cousins of his passing until at least two months after his demise. Ruth, if you're reading this, please know that our cousin Harvey did not intentionally inform you of Irv's death so late. He informed you as soon as he could. He himself did not find out until some time in January or February. My grandmother (whom I was estranged from) passed away this past January, but in keeping with family tradition, her family did not bother to inform me of *her* passing. I learned about it just this afternoon (April 4, 2001), from the Social Security Death Index on Ancestry.com.
I realise how learning so late about my grandfather's death must have hurt you, and I wish that hadn't happened. You had *every* right to be notified about his passing (just as I had the right to be notified about my grandmother's passing), but please don't blame Harvey for this. It was NOT his fault. He loves you very much and would really want to find you and reconcile.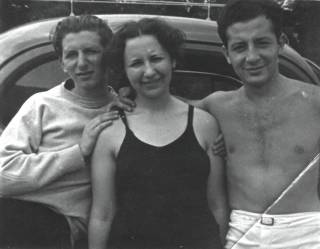 My grandfather, Ruth,
and their cousin Alex Browdy
Ruth, I loved my grandfather very much. He passed away when I was only nine years old, and there's a hole in my heart that remains till this day. I had never known anyone in my grandfather's family until rather recently, when I became acquainted with Blanche, her daughter Pam, and Harvey. It would mean a lot to me to get in touch with you, as well. I know he loved you, too.
If you read this, please email me. I would like to get to know you....
-- Daryl Osbrink